Making 5 Dollars With Your Gigs In Fiverr
Fiverr is a very popular platform on the internet owing its popularity to millions of people wanting to get tech gigs for a reasonable price and thousands of small entrepreneurs and freelancers offering those services. This platform offers a lot of opportunity and money to a lot of people connecting businesses with freelancers offering digital services in 300+ categories. Owing to its popularity , it has been featured on The Wall Street Journal, NBC, Yahoo Finance, CNN Money, Fox News, Smart Money and many more. Not all money generating sites get a chance to be featured on television, only those that are really giving good stream of income. As each day is coming, there are tons and tons of people signing up on Fiverr so that they could promote their gigs as well.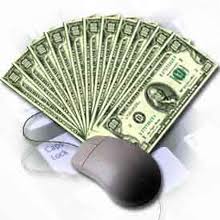 Fiverr serves to allow listing and applying for small one-off jobs, or gigs, online. Jobs listed on the platform are diverse and range from "get a well-designed business card" to "help with HTML, JavaScript, CSS, and jQuery" etc. Freelancers work in a variety of workplaces, ranging from home to office. Fiverr serves as e-commerce platform to freelancers & companies to sell their services by using their gigs. Gig is basically an advertisement of services. Gig include all the details of a services same like ecommerce products.  The pricing of Gigs depends on how much a seller earns per completed task. The buyers buy services in the form of gigs.
Most services or gigs start at five dollars or less and sellers are allowed to upsell additional services . The process works with people posting on gigs and buyers would pay $5 in return of the service you have given. You may be wondering if you sign up and provide services, do you get to keep all the money. and also , what is in it for Fiverr and how it generates the revenues. As a seller, you'll pay 20% of the revenue from each Gig as a service fee to Fiverr. Also, based on your location and currency, you may pay fees when withdrawing money. So simply put, for example, your buyer pays you $5 for the gig, but Fiverr will only give you $4 and they will keep the $1 which will serve as a processing fee. It will serve as their commission for helping you earn and get buyers for your gigs. Just imagine who would want to go through the hassel for measly $4 these days. But the fact is that it all adds up. If you provide good services and build a reputation, there is no shortage of buyers looking for deals or the ones who can't afford very high costs. The truth is there are a lot of people who are looking for all sorts of services as well yet they find it hard to find someone to do the service not until Fiverr came.
You will need Paypal account to receive and withdraw your Fiverr income. If you already have a paypal account, that is great. If not, you may have to open one up to get your online money making effort with Fiverr off the ground. You should be aware that the online market is competitive and you will need to offer services that a large number of people may be interested in and your price is very competitive. You can start slowly and build reputation and if you provide good services, revenues will follow.
People would often ask why and how Fiverr is different from so many other make money online opportunities. So, it is correct that there are a lot of sites that offers work on contractual basis on sites such as freelancer, and businesses that are looking for jobs or services. You can place your bid on how much you would want to be paid and if buyer and seller agree, the contract is put n place.  However, Fiverr does not work this way because you will simply post the services that you can offer and let the employers know what they want and what you can give them. If you would really look at it, the only thing that has made it different is the pricing because the amount if fixed for all of the gigs that were posted. When it comes to people looking for small jobs then Fiverr will be the right place for you to be in.
Cost of Joining Fiverr – A common question asked is "Is joining fiverr free?" So, simple answer is that there is no cost to join Fiverr. Signing up for Fiverr is free. However, only registered users can buy and sell on Fiverr. Almost anyone can find something to sell on Fiverr. Browse Fiverr categories and look at how other sellers offer their services, find where your skills can fit in, and then decide how you want to sell.
Make Money Opportunity on Fiverr is real. It can be great for those with some skills and willingness to start slow. It is get rich quick scheme. Generally, you start to make money online slowly. Once you build some reputation, you may not have to wait too long to flow in.